You've finally decided to take a trip to Positano, but what about the rest of the Amalfi Coast?
Lucky for you, Positano is the perfect base for your Amalfi Coast adventure. Save time by following our suggestions (tips from a local, not a tourist!) and easily create your own trip, regardless of how many nights you stay. For any personalized guided tours, ask us at the front desk!
This guide tries to answer the big questions you might have about Positano and its surrounding villages. When is the best time to visit? Do I really need a car? What should I eat when I'm not having seafood? Is Pompeii worth it?
Let's dive right in.
Positano
Positano is the most popular village on the Amalfi Coast, and for good reason- its stunning beauty is unlike anywhere else in the world. Built vertically into the cliffside, Positano is the perfect mix of colorful houses, ancient churches, and high-end boutique shops. The main attraction of Positano is the beach- it's a great place to snap some photos, sunbathe, and swim.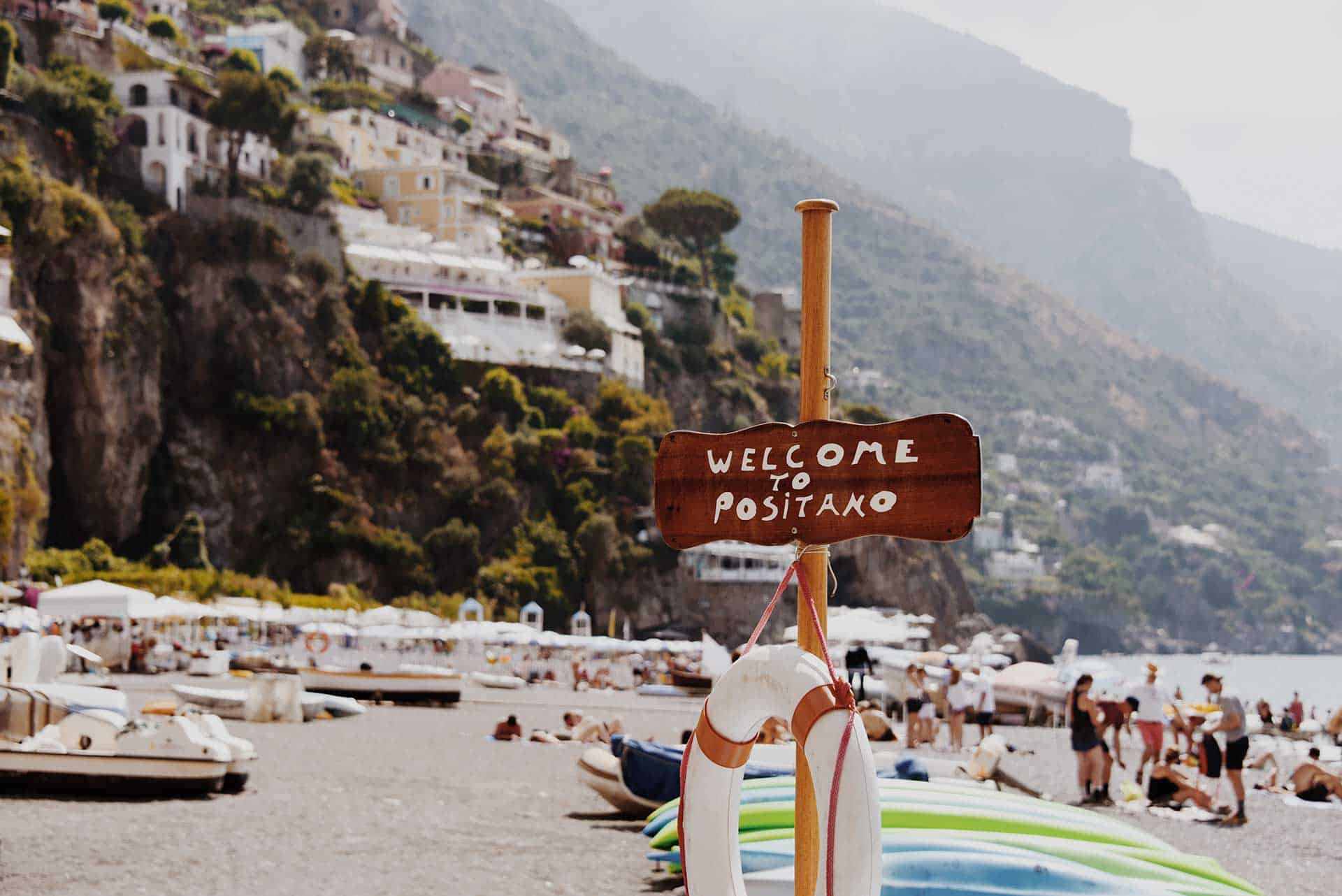 If it's a bit too crowded, try Fornillo beach, which is nearby but much less known about. Another popular activity is hiking- there are many great trails that lead to hidden coves and outrageous panoramic views of the coastline.
The entire Amalfi Coast supports some of the best coastline in the world, so naturally most of the local dishes contain seafood. Positano has many amazing dishes, but the most popular is the "spaghetti alle vongole" (clams).
---
Amalfi
Amalfi is a much bigger town than Positano, and has a lot to offer visitors. It's also a little easier to walk around, as there are less steps and more flat areas compared to the rest of the coast. The main attraction in Amalfi is the Duomo – a beautiful church built in the eleventh century. Other popular sights include the Paper Museum and the Cloister of Paradise.
Duomo in Amalfi
Amalfi is also a great place to shop – there are lots of stores that sell souvenirs, handicrafts, and local delicacies.
There are many incredible dishes to taste in Amalfi, but the one thing that stands out is the Granita al limone. They use their own special lemons grown on the coast to create the most amazing slushie you can imagine.  
It takes about 25 minutes to get from Positano to Amalfi.
---
Ravello
Ravello is a small town located high up on the cliffs of the Amalfi Coast. It's known for its royal gardens, dramatic views, and music festivals. The main attraction in Ravello is Villa Rufolo – it's an incredible villa built in the fourteenth century by King Robert of Anjou.
Villa Cimbrone at Ravello
Other popular sights include the Church of San Giovanni del Toro and the Crypt of San Pantaleone Martire. Ravello is also home to some excellent restaurants serving up local specialties like "zuppa di cozze e vongole" (mussels and clam soup) or "delizia al limone".
It takes about an hour to get to Ravello from Positano.
---
Capri
Capri is a small island not far from Positano. It's known for its natural beauty, luxury hotels, trendy bars, and celebrity visitors. The main attractions in Capri are The Blue Grotto, Marina Grande (the main port), and Villa Jovis.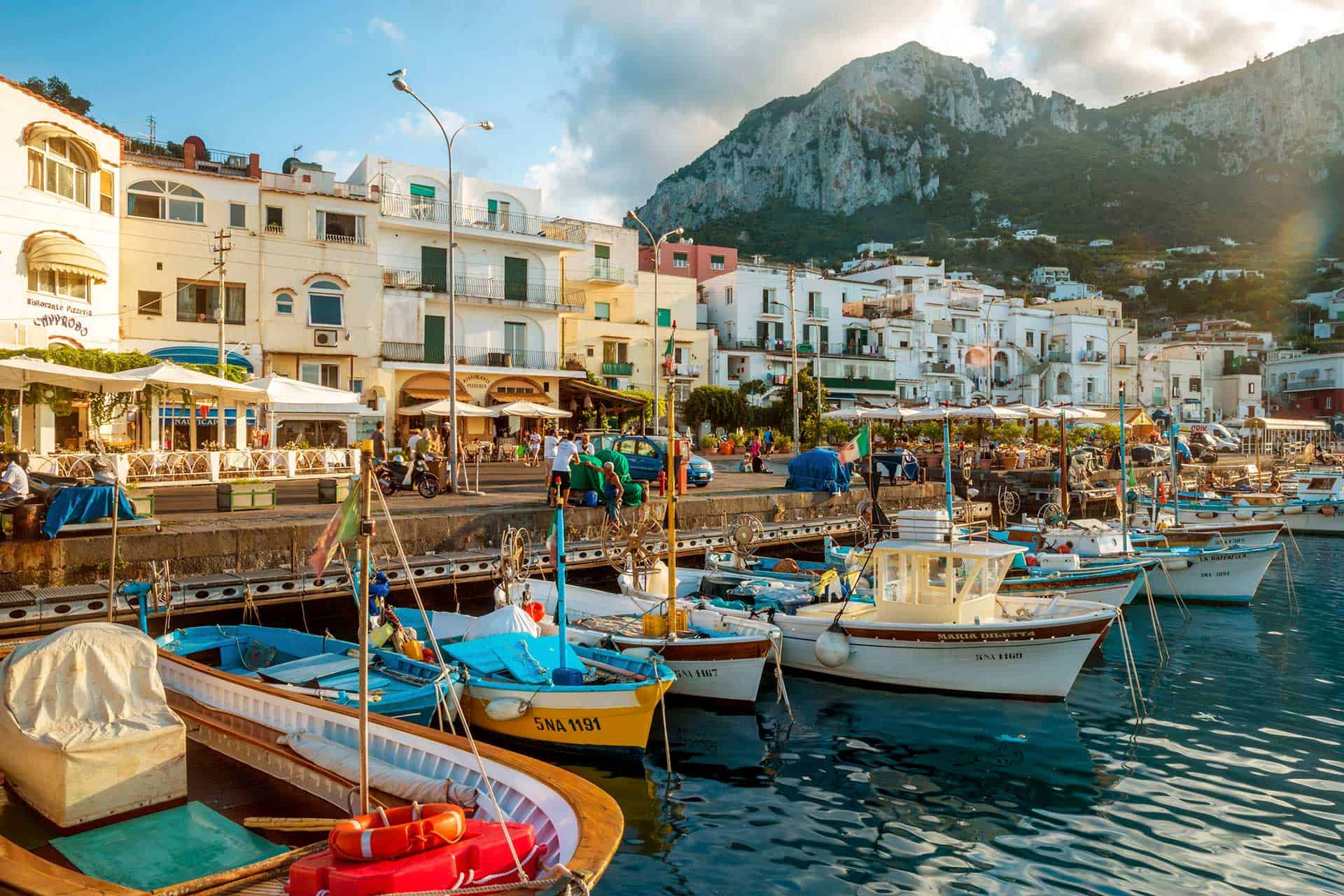 You'll find plenty of shopping opportunities in Capri- everything from designer clothes to locally made ceramics. When you are there, aside from the Caprese Salad you have to try the Ravioli Caprese. It's a very light pasta ravioli stuffed with aged cheeses.
It takes about 40 minutes by boat to get from Positano to Capri.
---
Local's Suggestions
When should you visit the Amalfi Coast?
You will find something beautiful every month of the year on the Amalfi Coast, but not all months are created equal. If you can, arrive in the spring between April and June.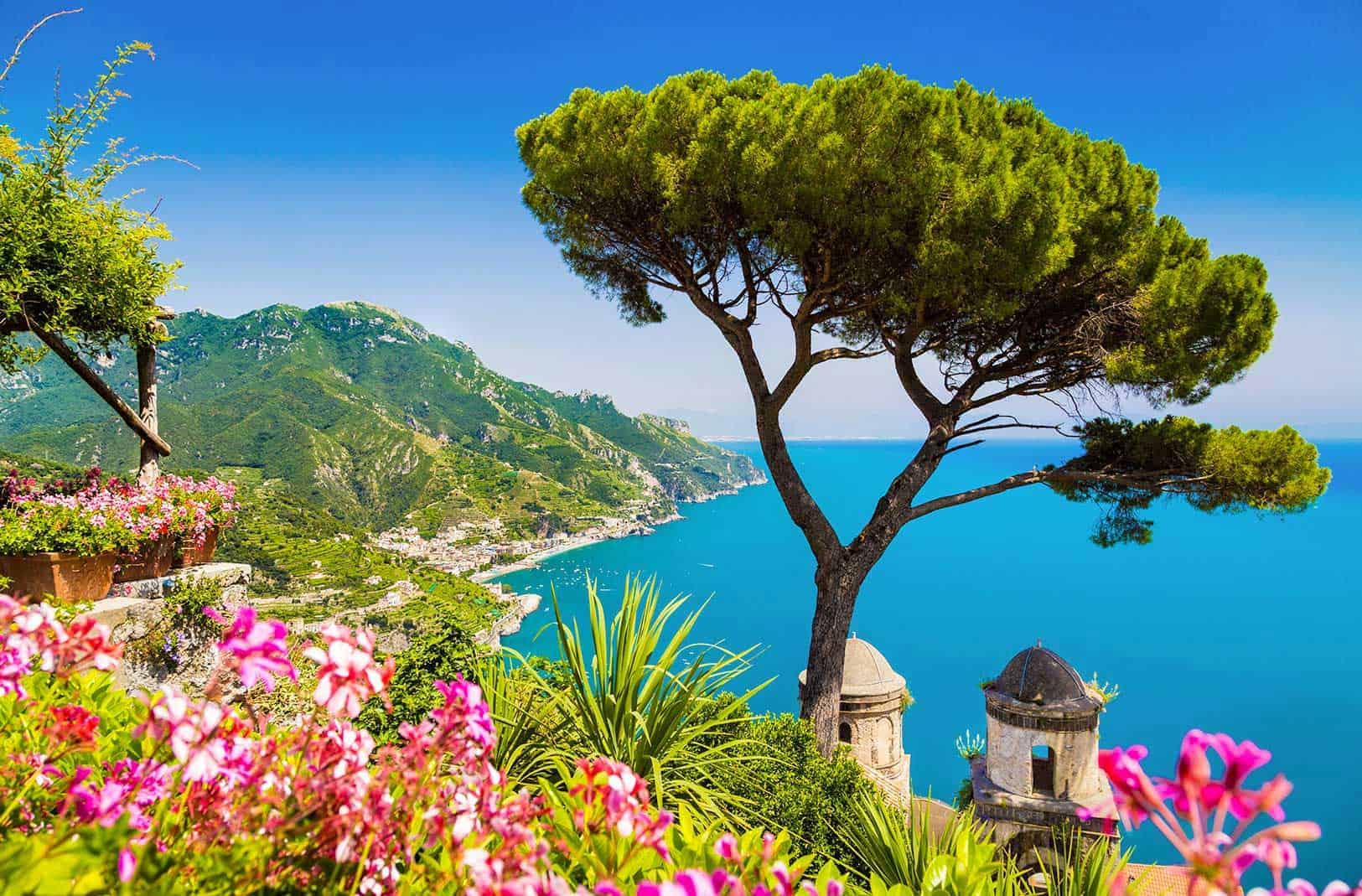 Blooming flowers in Ravello
The weather is just right, the flowers are blooming, and the sea is warm enough to go for a swim. Late spring/early summer also means you avoid the huge crowds in July and August, as well as the sometimes excessive heat in the late summer months.
---
Average Temperature & Rain in Amalfi Coast
To help you decide what to pack on your trip, here is a chart of the average temperatures during each month of the year, and the typical amount of rain.
Months
January
February
March
April
May
June
July
August
September
October
November
December
°C Temp
12°/2°
13°/4°
15°/6°
18°/8°
22°/12°
26°/16°
29°/18°
29°/18°
26°/15°
22°/11°
17°/7°
13°/5°
°F Temp
54°/36°
55°/39°
59°/42°
64°/46°
72°/53°
79°/60°
84°/64°
84°/64°
79°/59°
71°/52°
62°/45°
56°/41°
Rainfalls
104mm
99mm
85mm
75mm
50mm
33mm
25mm
40mm
81mm
130mm
163mm
122mm
In general, winter months are the "rainy season" with the summer barely getting any at all.
---
Car, bus, taxi or ferry?
According to locals, getting around the Amalfi Coast by ferry is the best way to do it. Incredible views, no traffic, lower price and less stress with parking. If you are here outside of the high season, public transportation works quite well. Having a car seems like the most comfortable thing, but comes with notoriously difficult and expensive parking, as well as narrow, winding roads.
---
What to eat when you need a seafood break?
Hopefully you love seafood, as the Amalfi Coast is loaded with the freshest, tastiest fish you can find. However, even the biggest fan of seafood sometimes need a break! Here are some dishes in no particular order you have to try: spaghetti Nerano, mozzarella di bufala, pizza napolitana, delizia al limone.
Delizia al limone at Orama Restaurant
---
Is Pompeii worth it?
If you are a history buff or willing to hire a local guide (not the audio), Pompeii can be a memorable destination.
Pompeii
However, locals suggest Herculaneum as it is much better preserved and less crowded. No matter which one you pick, you can expect to spend at least 6 hours including transit time.
---
Are there any must see small villages?
The Amalfi Coast includes thirteen splendid municipalities. In addition to Positano, Amalfi and Ravello which are the most famous and popular destinations, there are many others worth a visit. Praiano, known as "The country that greets the sun", is a special place to admire the sunset. Vietri sul Mare, with its traditions related to the use of ceramics. Maiori and Minori, two jewels set on the coast. The village of Cetara, which still maintains the ancient seafaring tradition intact today. The small and characteristic village of Atrani. Conca dei Marini, a suitable destination for those who love relaxation and tranquility. And then again, further from the coast, on the hills of the Amalfi Coast we find Scala and Tramonti.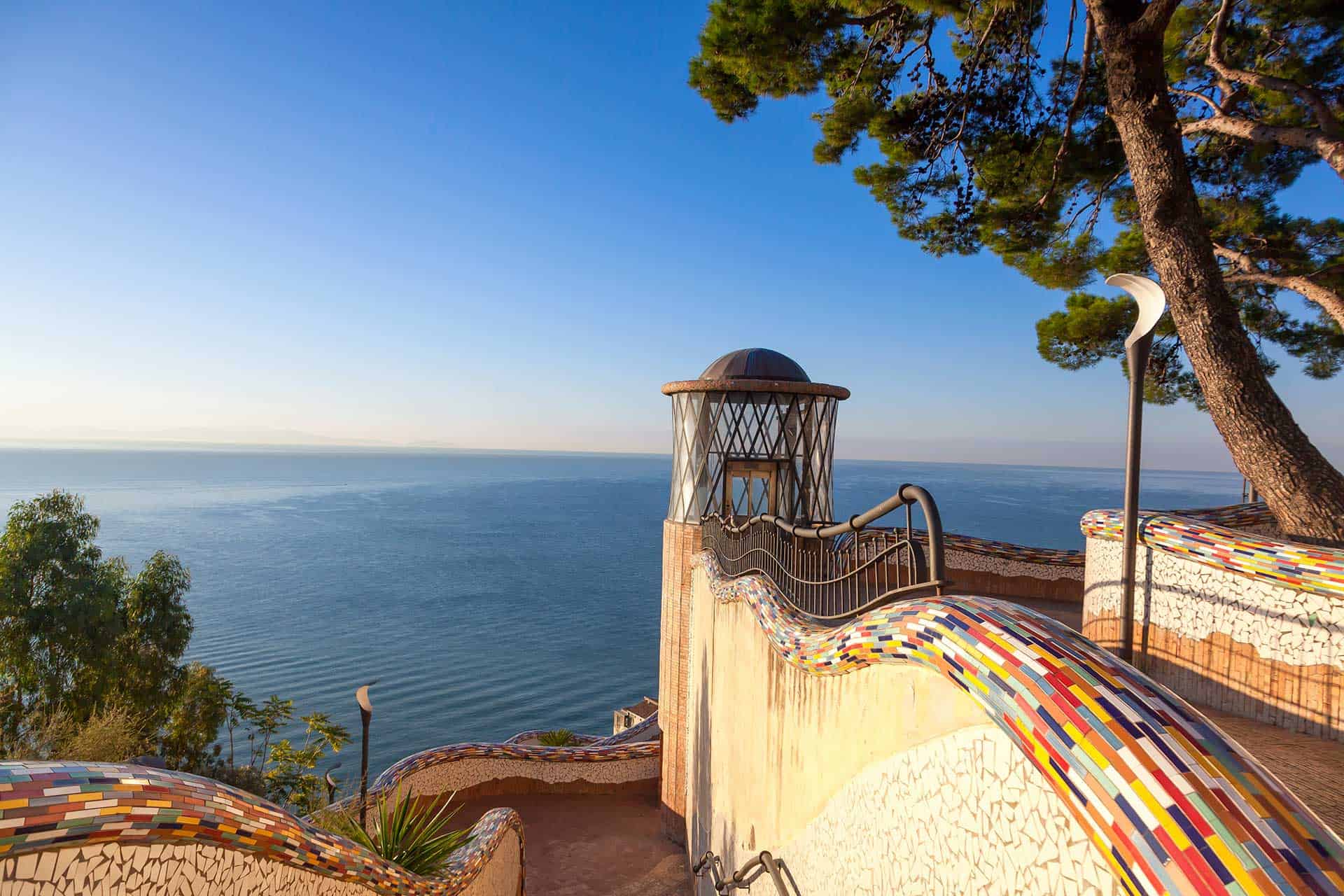 Vietri sul mare
---
We hope you enjoyed some of these insider tips about the Amalfi Coast. If you have any other questions, please don't hesitate to ask our helpful staff at the front desk.